NEW RIFLES & USED CONSIGNMENT RIFLES
NEW ARMALITE RIFLES FOR IMMEDIATE SALE

The M-15 (T)™ delivers pinpoint accuracy on demand. It's great for competition and the range. But its light weight and sleek, no-snag configuration also make the M-15 (T) perfect for varmint hunting. When you head into the woods or brush you're carrying a triple lapped, stainless steel 20" match grade barrel, an Armalite National Match trigger set, and a free floated stainless steel match grade barrel. Every specification of this rifle is intended for outstanding accuracy and precision for that first shot and every OTHER shot. The M-15(T) sets the Armalite Standard of Excellence. It's THE rifle you want in your hands on your next hunt.
AWB configured to suit all state requirements.
.875 at the Journal (Under the gas block)
Length of Pull: 14 1/2"
Semi-Auto
Features
Model: A4(T) Rifle with Free Float Handguard in Black
Caliber: .223/5.56 X 45 mm NATO National Match
Barrel: 20" AISI 416R Stainless Steel T Heavy
Rifling Twist: RH 1:8"69-80 Grain Ammo
Front Sight Base: Gas Block Top of gas block is .293 (+/-) lower than top of upper receiver
Upper Receiver: Forged Flattop with Picatinny Rail, 7075-T6 Aluminum
Lower Receiver: 7075-T6 Aluminum (forged)
Trigger: National Match two stage - 1st stage 2.5 lbs - 2nd stage 4.5-5 lbs
Overall Length: 38.38"
Weight: 8.78 lbs
Finish: Hard Anodized Aluminum, Manganese Phosphated Steel
Accuracy: 1 MOA
Included with Rifle: 10 Round Magazine, Black Case, Owners Manual, Limited Lifetime Warranty
NEW - Price: $1,699.99 ** 3 Available *Sights, Scopes, and mounts not included with Rifles.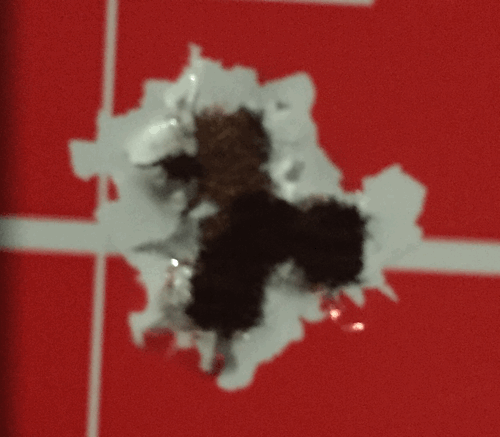 8/11/2015
Carl,
Frontsite Firearms is closed on Mondays so I picked up the rifle today. I shot 120 roungs through it. Most four shot groups were less than 1 inch. The picture is my best 4 shot group! I never thought I would be able to shoot a one hole 4 shot group with a simi-auto rifle. The 3# single stage trigger is awesome & the Maxi Brake lets me watch the rounds hit the target. Once again you have exceeded my expectations!
What does a guy have to do to get a rifle that will shoot? This was shot in an indoor range with PMC Bronze 55 grain FMJ-BT ammo. With really good quality ammo there is no telling what this thing can do. Later this month I will run it out to 500 yards outdoors and see what it can really do. Thanks again for a great shooting rifle! Jerry Clayton (Webmaster)
---
AR-10 A4 Carbine with Black Furniture

Hard Hitting and Rugged, at home on the range or in the field, serious carbine shooters deem the ArmaLite AR10A4 Carbine as the heavy caliber to own. Tactical flexibility combined with the compact length of the 16" barrel and collapsible stock are standard to any A4 carbine model; but add in the advancements that our engineers have made standard on every ArmaLite AR-10, such as improved feeding, extraction and ejection, and there is not another heavy caliber carbine that can compare.
The AR-10A4 Carbine offers the same sighting choices as the AR-10A4 SPR in a handy compact format. Hard hitting and rugged, at home, on the range or in the field. All our AR-10A4 and AR-10(T) rifles feature our clamping gas block, allowing the removable front sight to be rotated to zero. This assures that the rear sight is centered and full left and right windage movement is available when shooting in strong winds. Post-ban model available. Pictured with 20 round Magazine and optional scope.
.750 at the journal (under the gas block)
Length of Pull: (collapsed) 11⅛" (Extended) 14½"
Semi-Auto
Model: AR-10 A4 Carbine with Black Furniture
Caliber: .308/7.62 X 51mm NATO
Barrel: 16" Double Lapped, Chrome Lined, Threaded ⅝"48x24, 4140 Steel
Rifling Twist: RH 1:11.25" 150-175 Grain Ammo
Muzzle Device: Flash Suppressor
Front Sight Base: Picatinny Rail Gas Block. Top of gas block is .398 (+/- .010) lower than top of receiver
Upper Receiver: Forged Flat Top Receiver with Picatinny Rail and Forward Assist 7175-T74 Aluminum
Lower Receiver: 7175-t73 Aluminum (forged)
Trigger: Tactical Two Stage, 1st Stage 3.5 lbs - 2nd Stage Approximately 5-6 lbs.
Overall Length: 35" / 38.25"
Weight: 7.75 lbs
Finish: Anodized Aluminum Upper/Lower Receiver, Manganese Phosphated Steel Barrel
Accuracy: 2 - 2 ½" MOA
Accepts Magpul P MAGS
Included with Rifle: One 10 round Magazine, Sling, Black case, Owners Manual, Limited Lifetime Warranty
NEW - Price: $1,299.99 2 Available
CONSIGNMENT ARMALITE RIFLES - EXCELLENT CONDITION
*****ASK US ABOUT CONSIGNING YOURS*****